JULY SCHOOL HOLIDAY CAMERA WORKSHOP – Next workshop to be announced soon (for Term 3 school holidays)
Held at Fullarton Park Community Centre

A course for those wanting to nail an audition and develop self-tape skills
Suitable for tweens to young adult
Taught by PJ Oaten. PJ is a Professional actor based in Adelaide. He has over 20yrs experience in the film, TV & Theatre industry. This includes having an ongoing role in a children's TV series and most recently acting with Daniel Ratcliffe in the Feature Film "Escape from Pretoria". He is also an accomplished TV presenter and a regular hero in advertising campaigns and live theatre.
Next Workshop TBA Enquire Now and secure your spot!
"YOUNG GUNS" KIDS ACTING CLASS
TV/DRAMA PROGRAM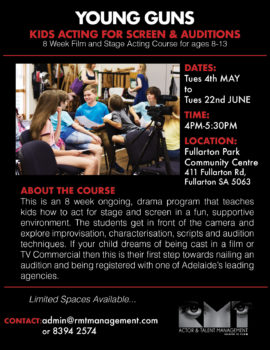 Classes for 8yrs – 13yrs
This is an on-going course for junior actors that focuses on filming, auditions, improvisation and stage craft in a friendly, fun environment. Creativity, self- esteem and team building skills are a focus of the curriculum along with training towards agency bookings. The principal tutor is Angie Christophel, RMT's Managing Director, she guides the aspiring actors through film acting techniques, TV commercial auditions, characterisation, improvisation skills, photo posing, the casting process and much, much more! Many of the students enrolled are also represented by the agency and RMT always looks to its Young Guns students first when feature films, TV Commercials and photo shoots are being cast. This is a program for passionate students keen to have fun and break into the industry.
Classes run during the school terms- next course for Term 3 will start Tuesday the 3rd of August 2021 at the Fullarton Park Community Centre
Enquire for Term 4 here
SCHOOL HOLIDAY "KIDS ON THE MOVE" DRAMA, MODEL & DANCE PROGRAM – 5 – 9 YEARS
This is a 3 x 6hr school holiday course designed for juniors from 5 – 9 years. This course encourages confidence and creativity in a positive, fun environment. We explore creative play, catwalk, photo posing, acting, dance, voice & singing, social graces, feeling good & self esteem, , fashion styling, hair care, fitness & nutrition! These jam packed sessions are followed by a professional photo shoot which includes styling and one digital image to keep. Invest in your child's well being and future today!
The next SCHOOL HOLIDAY COURSE: TBC
Enquire Now